BC needs a leader who will bring a creative, common sense approach to solving problems and meeting the challenges facing British Columbians.
With over twenty years of private-sector leadership, building the BC economy, Renee is a leader who brings fresh ideas and a new approach to government.
Make sure to sign up for Renee's emails to get policy announcements sent directly to you!
HOUSING
BC is facing a housing crisis. Young families in British Columbia have almost no hope of owning a home.
And rather than helping people, the NDP just keep making things worse. The cost of housing has never been as high.
I know how to help. I know this because I've spent my adult life not just building housing, but working to make it more affordable.
Please watch my response to this crisis from the recent Surrey Board of Trade debate.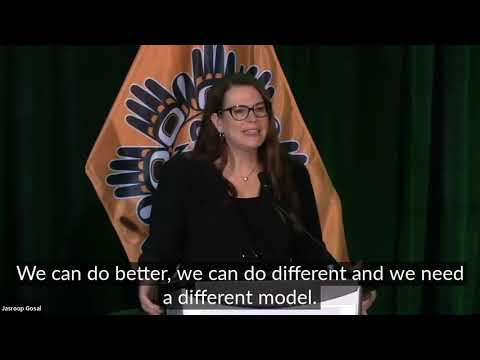 Healthcare
It's a simple fact. We need more family doctors.
I have heard from people in all parts of our province that cannot find a doctor, and this problem has become worse under the NDP.
When the NDP took over government, over 700,000 British Columbians did not have a family doctor.
And despite their repeated promises to address this — instead of getting that number down, it's risen another 100,000.
Your family doctor is your first point of contact when it comes to interacting with our healthcare system.
Academic research shows that family physicians produce better health outcomes, including a higher health-related quality of life, better health after age 40; and better health outcomes for individuals with a diagnosed chronic condition.
Having a sufficient supply of family doctors is also associated with lower mortality due to heart disease, cancer, and stroke, as well as better diabetes care.
So we know the problem, but what's the solution?
Here is my plan.
Increase the number of Family Doctors by increasing the number of training spaces in all parts of BC.
Allowing Physician Assistants to extend the reach of all Family Doctors throughout the Province.
Focus on attracting graduating physicians to Family Practice.
Overhauling the Urgent Primary Care Facilities to focus on attaching patients, with outcomes and deliverables.
Increasing the number of residency spaces for Family Practice.
I am committed to tackling this problem head on and getting results for British Columbians who don't have a family doctor.
CHILDCARE
I clearly remember my days of being a working mom with young children, waking up to a message that my childcare had been cancelled.
Overfilled high-quality daycare with long waitlists meant panicked calls to friends and family were far too common.
Each year brought different stresses as changes to my children's needs and changes to my job brought a constant need to adjust.
As we were trying to start a business, pay off our student loans, and working odd jobs to fill in the gaps, accessible and affordable childcare meant everything to me. We were a two-income family and we were barely making ends meet.
I am immensely grateful that more often than not, things worked out for us, but I understand how devastating it is for families to not be able to find the childcare they need.
I purposely waited until my kids were all fairly grown-up and independent to get into politics, but one of the main reasons I stepped into this role is because of all the parents with young children that I hear from every day, still at a loss of what to do. I also see all the grandparents who are stepping up to fill the gap and take care of their grandkids.
The need is real and urgent.
There are 220,000 children between 1-5 in BC, with only 110,000 daycare spaces.
That's a straightforward math problem, and we are failing.
Childcare has been an issue in this province for years and the government has not shown any real action other than announcing lofty goals and promises they don't even try to deliver.
I believe that if we are serious about creating a better future for everyone in BC, we need to invest in social infrastructure like childcare.Here is another math problem. There are 40,000 babies born each year in BC. But the NDP have only added 1,575 daycare space per year. If not one baby was ever born here again, it would still take the NDP 31 years to catch up to the need.
Having high-quality, affordable childcare supports families and gives parents, children, and the entire family as a unit the best chance to succeed.
It supports our shared goals of a thriving labour force, gender equality, and a prosperous future.
My plan is twofold: greater accessibility and more affordability.
Greater accessibility:

 

incentivize supply with government help in areas of greatest need; lower the bureaucracy through a streamlined approval process with timelines; increase the number of early childhood educators through apprenticeship learning, reaccreditation through recognition of similar, appropriate training; regionalize the guidelines and contextualize the space requirements.
More affordable:

 

Working with the federal government to ensure the money follows the child, with more given to those in need and in higher-cost areas.
As Leader of the BC Liberal Party, I will fix this issue once and for all.
THE OPIOD CRISIS
The numbers are unacceptable. Horrific. Egregious
I never want to get used to these numbers.
201
1782
6
That is 201 opioid deaths in October of 2021 alone.
1782 deaths this year in BC.
SIX people dying every day.
It's time for us to get angry. To stand up for those without a voice, for those that can no longer make good choices.
Because behind each of those numbers is a son, a daughter, a brother, a sister, a parent, a spouse.
The desperate cries of a parent trying to get help for their child, the tears of aging parents knowing their child is relegated to the streets and no longer able to care for themselves, the pain of a family suffering the loss of their son, their brother.
This suffering is unnecessary and wrong. It is a continued failure of the NDP, and under my leadership, the BC Liberals can solve this.
As Premier, I would create a fulsome complex care system to treat, rehabilitate, heal and give dignity back to those that are mentally ill and addicted.
It will cost less than using our police force (who have been disempowered to actually keep our citizens safe), emergency rooms, and the justice system.
How can I be so confident?
Because we don't need to reinvent the system. We just need to open our eyes and follow the leaders in the world who have already succeeded in solving homelessness and substance use, while treating those who are mentally ill.
But we have to do more! We have to act earlier! We can't wait until opioids and fentanyl are the only options. We must support our youth with psychological services and make these services available to all British Columbians.
We can solve this. We must solve it.
We can't wait any longer.
One more death is one too many.
THE ECONOMY
To some, the BC economy is numbers, data, and spreadsheets.
To me, the economy is people. It's you.
Do you have what you need to make our economy grow?
Do you have steady employment?
Are you overburdened by rising costs and rising taxation?
Do you see yourself starting a business and growing it into something?
Do you dream of starting a family, buying a home?
Do you have the confidence in the future that would allow you to make plans for your business?
Do you have enough employees? If you need more employees, are they easy to find?
These are all questions that real people are asking every single day.
In every single corner of this province.
From downtown Vancouver to Prince Rupert. In Penticton and Cranbrook.
As BC Liberals, we need to have a plan to answer these questions if we are going to win in 2024.
It's the government's role to create the atmosphere — to create the environment, where you can find work in your field, where you can start a business from nothing and grow it into something, where you can hire, where you can build a family…….where you can succeed. At whatever success looks like to you.
The government's job is to create a plan, a blueprint, an invitation for investment, and certainty for the future.
This NDP government is failing at all of those things.
They're trying to regulate and control, they are increasing taxes and costs, and they're ignoring whole segments of our economy.
They are ignoring you.
As BC Liberal Leader, I have a plan to restore our economy to where it was under previous BC Liberal governments.
We need to get back to basics.
Get our bloated spending under control.
Review our taxation and roll back the NDP increases.
And — restore the carbon tax to revenue-neutral.
That's the way it was under Premier Campbell, it stayed that way under Premier Clark but when John Horgan took over — he got greedy and it's no longer revenue neutral.
He forgot about you.
I will make sure that we always keep you in mind because ultimately, your success is our success.
FORESTRY
The NDP recently deferred logging in 2.6 million hectares of our forests for two years.
That means no BC Timber Sales in those 2.6 million hectares during this deferral, representing 20% of all the log sales in BC.
How does this terrible decision affect our BC economy?
According to the BC Council of Forest Industries, this deferral plan will shut down 14 to 20 mills and put 18,000 British Columbians out of work.
Shuttering family businesses like Vancouver Specialty Cedar Products.
It could even shut down large employers like the Teal Jones sawmill in Surrey.
It isn't just our forestry workers who are impacted, but communities they live in -- many of them in rural BC.
The BC forestry sector is our provinces #1 exporter. All told it accounts for 30% of our total exports.
It contributes $13 billion dollars each year to our economy.
If you do the math 20% of 13 billion is 2.6 billion dollars. Wiped out with the stroke of the NDP's pen.
And who advised them to make this decision?
The NDP appointed "Old Growth Technical Advisory Panel".
Who's on this panel you ask? Is it a committee balanced with forest industry exports and others with experience and knowledge in related fields?
Of course not. In fact outside of one professional forester, the committee is largely made up of environmental activists and even one former member of the Sierra Club!
The deck was clearly stacked against a successful and environmentally self-sustaining industry that has ben one of BC's largest employers and economic drivers.
In a time when we should be looking to rebuild and strengthen our economy, the NDP is recklessly meddling in a bedrock industry of British Columbia and putting thousands of employees out of work.
By not letting the hard-working members of this industry do their jobs, the NDP are hurting -- not helping the healthy stewardship of our forests.
BC is a successful province when we focus on the economy.
When we encourage free enterprise while also taking care of our bountiful natural resources.
As the next Leader of the BC Liberal party, I will restore that focus. I will stand up against the NDP and their mismanagement of our economy, their willful destruction of our resource jobs and lack of attention to our health care system.
As the next Premier, I will not allow special interest environmental activists to infect our advisory committees. We need to consult with those directly affected by decisions like this, and I can assure you that they don't belong to the Sierra Club.
However, I can't do this alone.
Together, we can show British Columbians that the BC Liberal party is the only party that can stand up and safeguard our resources, protect jobs and grow our economy!
DISCRIMINATION AND BILL-21
What does it really mean to create a culture of diversity where everyone is welcome?
A culture where young and old, male and female, everyone of every religion, background, orientation, identification, and education could say, "I belong".
What does it take to make sure that all of those voices are welcome?
Leadership.
That question came up in the first BC Liberal Leadership debate and it also came up in last month's Federal Election.
Bill-21, which prohibits any sort of visible religious symbol in public sector jobs, was passed in the Quebec National Assembly and all of our national party leaders were given an opportunity to come out against it as discriminatory.
Not one did.
Our prime minister Justin Trudeau, Conservative leader Erin O'Toole, NDP leader Jagmeet Singh, not one took the opportunity to call out Bill 21 as the discriminatory bill that it is.
Even though Bill-21 effectively prevents religious minorities from ever being nurses, teachers, or having public sector roles. Even though it disproportionately affects women in these roles.
Every federal leader was silent.
Well, our Premier has also been silent.
As the leader of the BC Liberals, I will stand against discrimination and I will be a voice for all minorities.
And as Premier, I will go one step further.
I will change the Provincial Constitution so that we would never even be able to have a bill, like Bill-21, be brought forward in our legislature.
It's time for leadership.
It's time for BC to show some leadership in Canada.
And it's time that we stood against all forms of discrimination.
BC is a rich and diverse province and all should be and are welcome here.